Regular price
$949.99 USD
Regular price
$949.99 USD
Sale price
$949.99 USD
Unit price
per
Sale
Sold out
Fits:
2017 - 2021 Honda Civic Type R FK8
2023+ Honda Civic Type R FL5
2023+ Acura Integra Type S
2018+ Honda Accord 2.0T
2018+ Acura RDX 2.0T
2018+ Acura TLX 2.0T
_______
Research and testing has shown that a downpipe upgrade is one of the most effective modifications to perform when looking to increase efficiency out of Honda's 2.0L turbo engine. The PRL Motorsports High Volume downpipe upgrade promotes optimal airflow with virtually no turbulence throughout the body of the downpipe.
TSP's design utilizes 304 stainless steel investment cast ends, CNC pocketed for a smooth transition to a 5.00" OD, 400 CPSI GESi G-Sport catalytic converter for the middle body. This 5.00" OD catalytic converter was formulated for small displacement direct injection vehicles and offers optimal exhaust flow. All components are fully back-purged on site to withstand high exhaust gas temperatures. The wide shape of the cast inlet smoothly blends the turbine outlet and wastegate gases to reduce restriction, while the cast outlet allows smooth taper to aftermarket and/or factory front pipe. All kits will include gaskets, stainless hardware, and components needed for a seamless installation.
Exhaust components that may become damaged over time from being coated, heat wrapped or otherwise insulated in some capacity are not covered under the PRL Motorsport's Manufacturer Warranty. Insulating these components can cause heat to cause degradation of the material faster than would normally occur.
Performance Gains:

Increased power and exhaust flow throughout the entire powerband
Decreased backpressure & cooler exhaust gas temperatures

Kit Includes:

Downpipe Assembly
Heat-Shield Stand-Offs
M18 x 1.50mm Hex Plug (For Accord Applications)
O2 Sensor Harness Extension
Share
View full details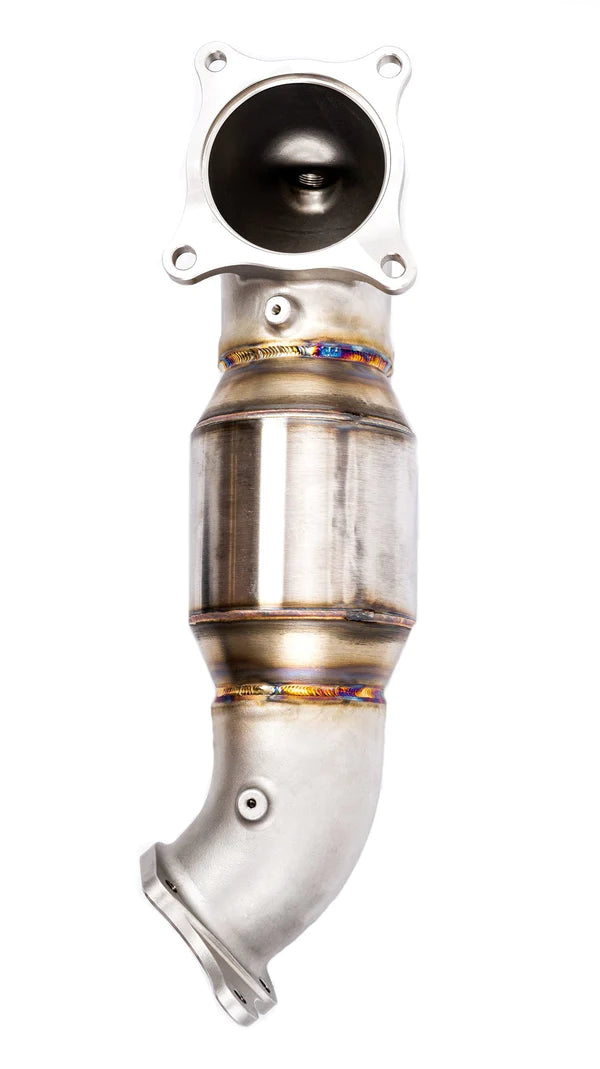 Well worth the money
Living in a emissions testing state I wasn't expecting much from this. Boy was I wrong. Even without a tune there is power gained everywhere. Pulling out from a stop takes less effort. Paired with the awe touring exhaust this made the volume and tone just right. When you open the car up it like a complete new animal. I opted for the heat coating and I must say my air intake Temps are definitely lower and stay lower. Definitely made the car more fun to drive. Unlock and tune next. Can't wait, expecting bigger gains with this installed.