Regular price
$1,434.50 USD
Regular price
$1,510.00 USD
Sale price
$1,434.50 USD
Unit price
per
Sale
Sold out
Fits:
2022+ Honda Civic Si
2023+ Acura Integra A-Spec
_______
We've also installed these exact Tein Flex Z Coilovers on Project Integra, a build that we completed with a local Acura Dealership, to confirm that it is the correct part number! No error codes at all.
The Tein Flex Z Kit includes error code cancellers so you will not get any chassis service error lights on your dash, a huge bonus for Si owners looking to dial in their suspension with little fuss. Adjustable top hots will allow you to add more negative camber for better handling, and wheel and tire clearance. 
Optional:
EDFC Active Pro: a high-spec version of EDFC ACTIVE, which enables automatic adjustment of damping force according to the changes in longitudinal G-force and vehicle speed, and comes with new and upgraded functions.
Newly-added features, such as individual adjustment of 4 shock absorbers, lateral (cornering) G-actuated automatic adjustment, vehicle speed pulse input and 2 additional input ports
Twin-Tube System for Comfortable Ride on Streets!
Considering the use of larger tires/wheels and the lowered ride height, FLEX Z uses twin-tube system, in pursuit of ride comfort on streets.

In order to maintain the ride quality on streets with rough spots here and there, a shock absorber has to have sufficient stroke, be low-frictional and move smoothly.
As an oil chamber and a gas chamber are not arranged serially in a twin-tube system, it is easy to secure enough stroke. Also, low gas pressure keeps friction low.

Its smooth stroke movement makes it possible to follow rough and bumpy road surfaces quite well, offering supple ride at low speed and stable ride at high speed.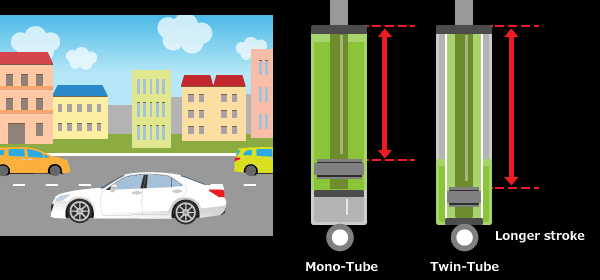 Damping Force Adjustable to Change Ride to Desired Settings!
FLEX Z has ever-popular 16-level damping force adjustment (comp./rebound together) feature with the use of needle valve. By turning the adjustment knob, damping force (stiffness) is adjusted linearly step by step, to change the ride and handling of the car to suit driver's needs/preferences. Use of well-reputed "ADVANCE Needle" at the needle valve for oil flow control secures sufficient damping force adjustable range.
Whether it's for the handling characteristics of sport driving or for the ride quality according to numbers of passengers, finding the most desirable setting is easier than ever.
Damping Force Adjustment Knob: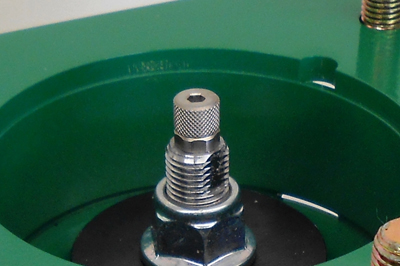 Compatible with EDFC Series to enable In-Car Damping Force Adjustment!
With EDFC (Electronic Damping Force Controller) series installed, damping force can be controlled from the cockpit with ease. Stepping motors attached in place of adjustment knobs control the damping force quickly and accurately.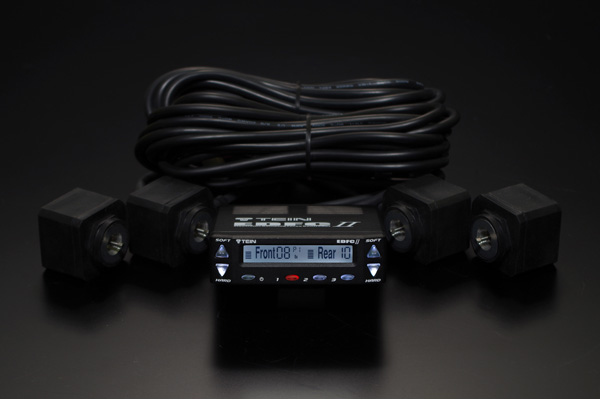 Upper Mounts Included for Easy Installation!
FLEX Z kit includes upper mounts exclusively designed for each vehicle model; either reinforced rubber mounts or pillow ball mounts. Pillow ball upper mounts for front strut suspensions have camber adjustment feature.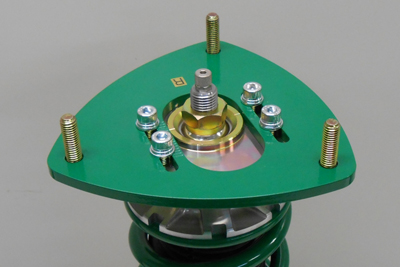 Highly Durable & Reliable!
After many years of research and study, TEIN has developed optimally-shaped dust boot made of most suitable material. Elastic & highly-durable dust boot effectively prevents damages to the piston rod and foreign substances from getting inside the shock absorber.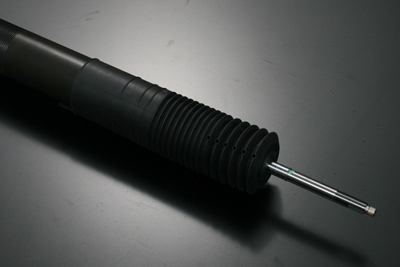 Final assembly of shock absorbers is done in the clean room, which is almost equivalent to operating room. Room pressure is kept under control to shut out dust & dirt and all workers entering the room must take air shower, to make sure all the assembly work is done in completely clean air, in order to maintain higher level of accuracy and reliability.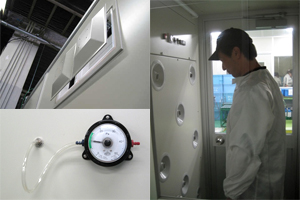 Upper mounts and lower brackets are coated with rich TEIN green powder paint. This powder paint has high coating film strength, is highly durable yet is low-pollution due to non-use of harmful solvent. After the shot blasting pre-treatment, the patented "2-layer/1-bake" treatment using anti-rust powder paint is applied for superior durability and high corrosion resistance. (Patent No. 4347712)



On shell case, TEIN's self-developed one-of-a-kind "ZT Coating" is applied, for tougher protection against chipping, often caused by bounced pebbles, and rust. With zero claim rate, against adhesion, out of 500,000dampers sold, we are confident that people living in snowfall area or near seashores would even be very satisfied.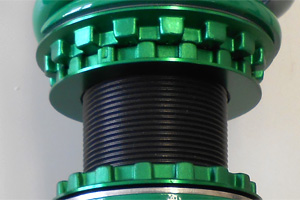 Smooth Ride Height Adjustment & One-of-A-Kind Adjusting Wrench!
FLEX Z has adopted the new wrought aluminum spring seats and low-friction hard-resin thrust washers. These effectively reduces the friction with springs, caused during ride height adjustment, and makes it easier to adjust the ride height with pre-load on the springs. Shell cases are treated with "ZT Coating", a superlow-friction fluorine resin coating, which is tightly baked onto the surface in-house. This special coating provides superior protection against rust and high lubricity, for keeping a smooth adjustment for a long period.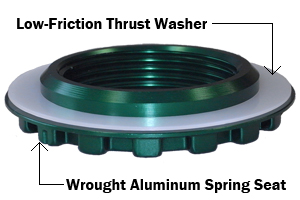 FLEX Z kit includes one-of-a-kind user-friendly ride height adjusting wrench. It has a 12.7mm (1/2in) sq. hole for attaching spinner handle and/or torque wrench for tightening at high torque.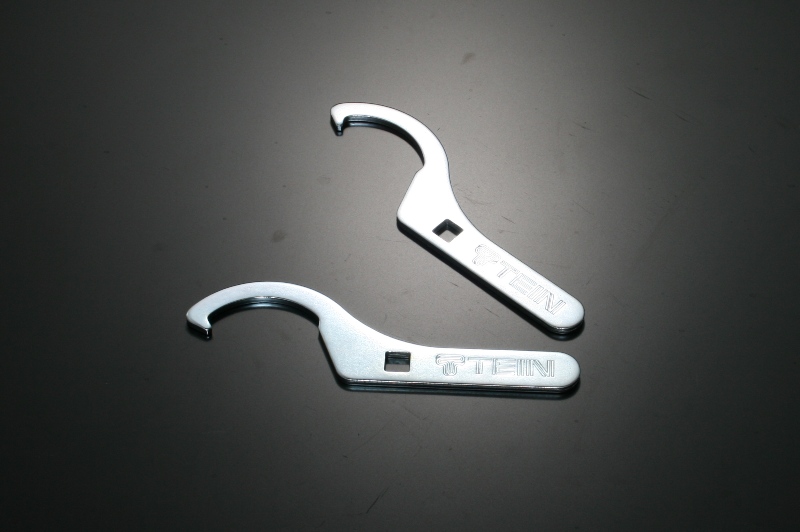 No-Sag Springs!
Included springs are made of high-tensile steel SAE9254 (tensile strength 200kgf/mm2 or over) and cold formed for excellent resistance to sagging and for superior quality stability.
Surface is powder coated for superb protection against chipping & peeling, for high durability and for superior anti-corrosion performance.
High-quality spring can be used under various conditions without any worry.
The most suitable shape of spring (straight or barrel-shaped) is determined for each vehicle model, to provide wide ride height adjustable range and to secure sufficient stroke without compromising ride comfort.
High-Spec Damper Oil
Specially-formulated high-spec oil exhibits stable viscosity characteristics at any temperature; from low to high, to allow shock absorbers to stroke smoothly and to generate damping force stably under various conditions. The oil has superior anti-foaming characteristics hence the bubble cavitation and/or thermal degradation hardly occurs, making it even suitable for tough sport driving. The oil also does not deteriorate much with age, making it possible to maintain and deliver superior performance for the long term.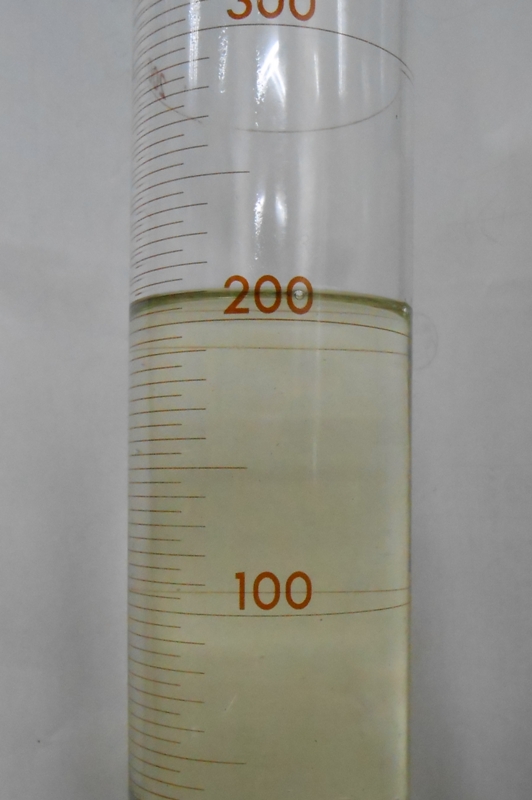 Share
View full details