Regular price
$399.00 USD
Regular price
$478.80 USD
Sale price
$399.00 USD
Unit price
per
Sale
Sold out
Fits:
2016 - 2021 Honda Civic 1.5T
2017 - 2021 Honda Civic Si
_______
Unity Performance is excited to offer the plug n'play replacement Koyorad Aluminum Radiator upgrade for all 1.5T Civic models (incl. Si). Heat management is everything when extracting more performance safely from your car, especially for those looking to go to the track, or repeated spirited street driving as you will experience your Engine Coolant Temps (ECT) shooting up.
The Koyorad Radiator is 43% thicker vs. the OEM radiator allowing the fins to capture and spread more of the cool air that comes from the front grille while driving. As your car's coolant is brought into the radiator from the upper hose, the radiator's job is to reduce the coolant's temperature before it is recirculates back into the engine via the lower hose. The OEM radiator due to it's thin size can only accommodate street + light spirited driving - as illustrated below, spirited driving heats up (Red) the factory radiator faster so it's not able to sufficiently reduce the temperature of the coolant before it enters back into the engine. The larger Koyorad upgrade is your answer as it disperses the heat over a thicker surface thus remaining cooler (Blue) and returning colder coolant back into the engine.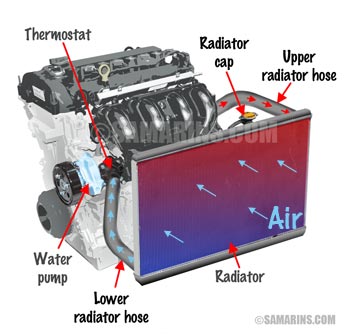 Another benefit to the Koyorad Radiator is that the full construction is aluminum vs. the OEM radiator which is has plastic ends that are more prone to cracking and leaking coolant over time, and/or as you modify and drive the car harder. Leaking coolant is the last thing you want.
Features: 
Retain factory mounting points, 

factory fans, fan switch, A/C condenser, and accepts OEM hoses for a quick and simple installation.

All aluminum construction


Precision TIG welded

Two Row construction

Brushed aluminum finish

Billet Drain plug

Share
View full details