Regular price
$650.00 USD
Regular price
$700.00 USD
Sale price
$650.00 USD
Unit price
per
Sale
Sold out
Fits:
2017 - 2021 Honda Civic Type R FK8
_______
HKS offers one of the few Tube & Fin Intercooler design offerings for the FK8. Let's give you some raw numbers at first, and then explain it all:
Intercooler Core Size:
Stock: 680mm x 143mm x 64mm
HKS: 695mm x 178mm x 100mm
Taking the design as well as length, width, and height of the HKS Intercooler vs. Stock Intercooler into mind, the upgraded unit has 200% more core capacity for airflow. Looking at the graph below, air exiting from the stock intercooler is considerably hotter after a period of spirited driving, thus causing to what's known as Heat Soak; ECU senses the rising temperatures and pulls timing to protect itself from detonation, resulting is dramatic power loss which you can feel as a driver.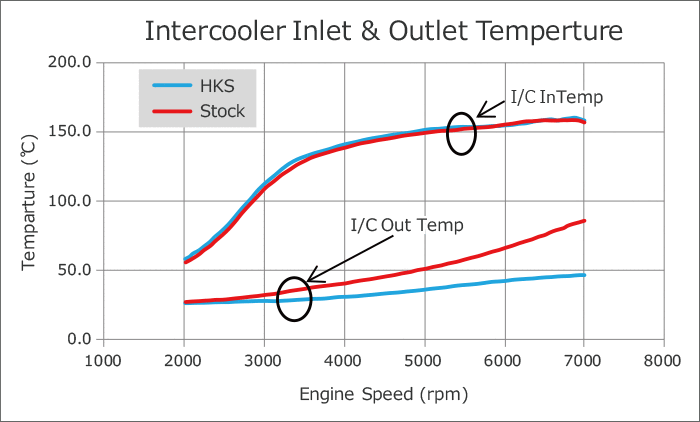 Most Intercooler designs are of the Bar and Plate design, such as the 27WON Intercooler that we offer - benefits of the Bar and Plate design are that they hold higher capacity for more powerful applications, they take longer to heat soak, and they're more robust for everyday use including impacts from road debris.
The HKS Tube and Fin design is preferred by driver's want a lighter intercooler core design, and more direct air flow through the core that reaches the radiator. Tube and Fin designs do heat soak quicker, but they also dissipate heat faster than a Bar and plate which once heat soaked takes much longer to cool down. Hitting road debris will damage the Tube and Fin design more than Bar and Plate, so do exercise caution even more so on the road and track with this setup.
If you're having trouble deciding which core design suits your build, ask yourself what type of situations do you see yourself in mostly? If you're only a spirited street performance driver or going for big power and straight-line pulls, go for our 27WON Bar and Plate. If you're taking your FK8 to many hot track days, consider the HKS Tube and Fin. The Bar and Plate is the safer option, the Tube and Fin setup is more specialized.
Share
View full details