Regular price
$2,924.71 USD
Regular price
Sale price
$2,924.71 USD
Unit price
per
Sale
Sold out
Fits:
2017 - 2021 Honda Civic Type R FK8
2023+ Honda Civic Type R FL5
2023+ Acura Integra Type S DE5
Note: Please verify wheel fitment / clearance before ordering. All EBC big brake kits are custom made/packaged to order, and cannot be returned due to wheel fitment issues. The pictured wheel is 18" Titan 7's with a 5mm Spacers, and there's less than 2mm of clearance - 19's are highly recommended for this setup over 18" options for safety. 19" wheels will clear with ample space!
_______
All-new six-piston big brake kit offers one giant leap forwards for the performance braking market
EBC Brakes Racing's Apollo Big Brake Kits represent the ultimate upgrade when it comes to improving stopping power.
Complete with stunning, British-engineered six-piston calipers and all the hardware you need to completely replace all equivalent components of the front axle of your vehicle's stock braking system, these complete kits give a firmer and more responsive brake pedal feel and allow you to drive much longer without the onset of brake fade.
Apollo Big Brake Kits are also supplied with front braided brake lines and high-performance fluid, ensuring a brake upgrade that delivers maximum braking performance.
These kits are now available for the acclaimed FK8, FL5, DE5-series Honda & Acura – a proven road/track sports car that's enjoyed by driving enthusiasts across the world, making it the perfect vehicle to benefit from such an upgrade.
Apollo-Series 6-Piston Calipers
EBC's lightweight-yet-strong aluminium 6-piston brake caliper
Two-piece bolted design that incorporates high-tensile 12.9-grade steel bolts for reinforcement of the caliper bridge section (computer FEA analysis shows that this offers significant improvements in caliper stiffness compared to a monobloc design)
Machined from heat-treated low-pressure castings (this offers a noticeable performance advantage over conventional gravity cast calipers, exhibiting higher overall strength and a comparable caliper body stiffness to forging)
High-temperature fluid seals coupled with full boot-type dust seals give maximum protection against road grime and debris
Lightweight, hard-anodised aluminium staggered pistons with serrated/castellated piston noses that reduce heat transfer into the braking hydraulics
Every single brake caliper pressure tested to 2,500psi
Full stainless-steel hardware and fittings, providing durability and longevity – this caliper will never rust
Uses standard pad shapes, giving choice when selecting brake pads
Rather than a powder-coated finish, all Apollo calipers use an advanced high-temperature Teflon™ polyester coating process to ensure they look great for much longer. Currently available in Stealth Black, Storm Shadow Blue, Luminous Yellow and Racing Red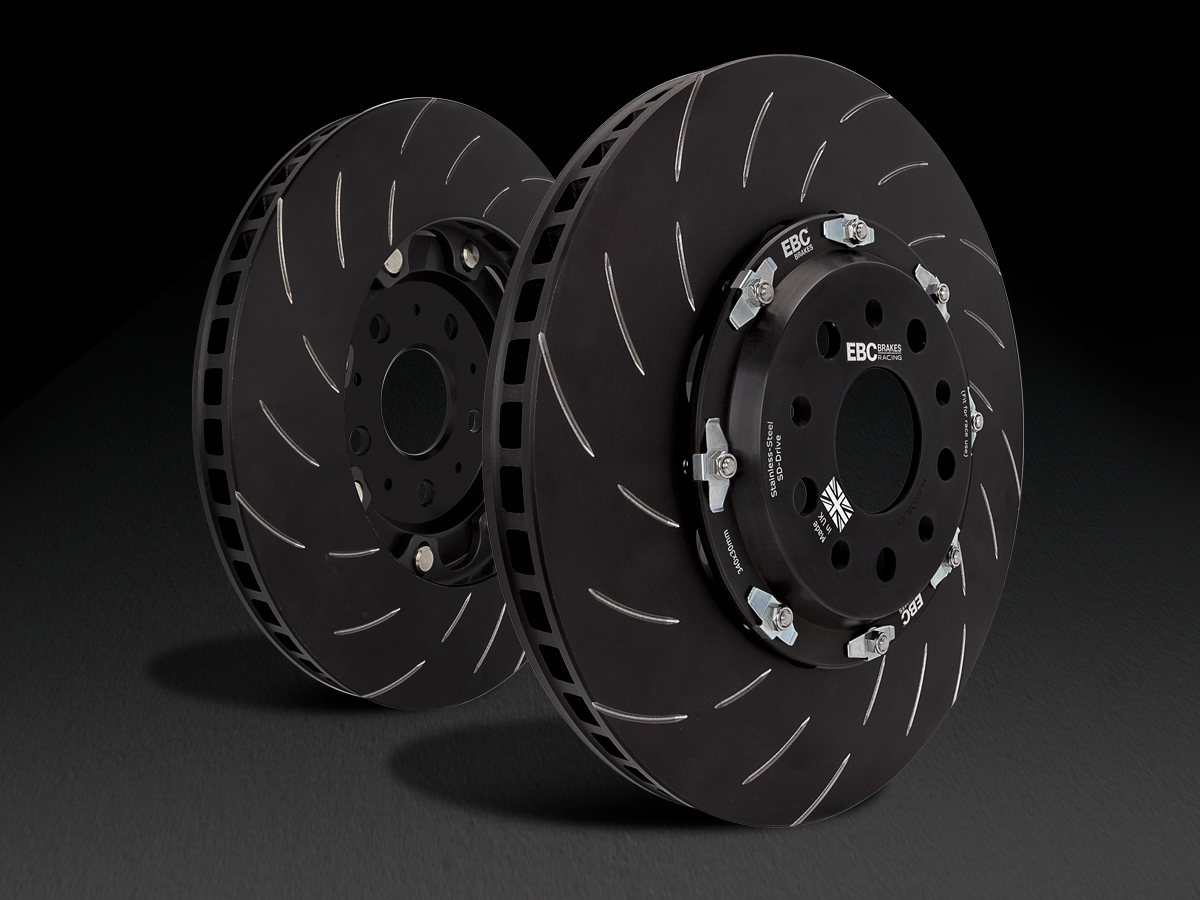 Fully-Floating Two-Piece Discs
Fully-floating 380x36mm two-piece discs that allow the outer ring to expand freely in response to heat (this reduces stress which in turn extends disc life and reduces the tendency for disc cracking during extreme use)
Drive bobbins machined from a single piece of stainless steel giving maximum strength and corrosion resistance (this reduces maintenance requirements and ensures the outer ring continues to float freely over time)
Disc rings feature 48 directional internal curved vanes for improved cooling
Unique 'Swept Groove' slot design for effective evacuation of braking dust and gases whilst ensuring good initial bite on brake application
Now featuring the latest thermic black corrosion-resistant finish – the very latest in rust prevention
Bluestuff™ NDX Performance Brake Pads
Every EBC 6-piston Apollo Big Brake Kit is supplied with EBC Bluestuff™ NDX pads for the front axle
Now road legal in most markets, Bluestuff™ NDX combines excellent cold bite with the capability to perform well in short spells of track/race conditions
Stainless Steel Braided Brake Lines
Every kit is supplied with EBC Brakes' stainless-steel braided brake lines for the front axle
Every hose has a stainless-steel braided exterior that prevents a phenomenon known as 'ballooning', this braided exterior prevents the spongey feel of OE rubber lines and provides greater precision and feel under braking
Super DOT 4 Brake Fluid
Every kit is supplied with 1 litre of BF307+ super DOT 4 brake fluid. This fluid has a 310°C boiling point – a significantly higher boiling point than standard DOT 5.1 fluid
Having such a high boiling point gives the braking system exceptional endurance, allowing you to push hard for extended periods without heat soak causing the fluid to boil and resulting in fade
Share
View full details