Regular price
$152.71 USD
Regular price
Sale price
$152.71 USD
Unit price
per
Sale
Sold out
Unity Performance is the exclusive Canadian Dealer for all 27WON Performance Products in Canada! US folks, please continue to purchase through 27WON directly.
_______
Fits:
2016 - 2021 Honda Civic Base (Coupe, Hatch, Sedan)
2017 - 2020 Honda Civic Si (Coupe, Sedan)
2017 - 2021 Honda Civic Type R FK8
_______
If you find yourself fighting for traction and would like to improve throttle response then look no further, the 27WON Performance Rear Engine Mount is the performance upgrade just for you.


Compared to OE and other options on the market you may notice something is missing…or is it? With our design less is more; which is why our mount utilizes only one polyurethane isolated mounting point.

The mounting point between engine and RMM has a primary motion and secondary motion.
Primary = rotational
Secondary = up/down
The polyurethane mounting point on the engine reduces the primary rotational movement of the engine while still allowing a small amount of movement due to the polyurethane compressing.

The rigid mounting point connected to the chassis sub-frame eliminates the up/down motion that the engine follows while the engine rotates. This eliminates associated secondary vibration and thus reduces NVH. Check out the blogs below for more details.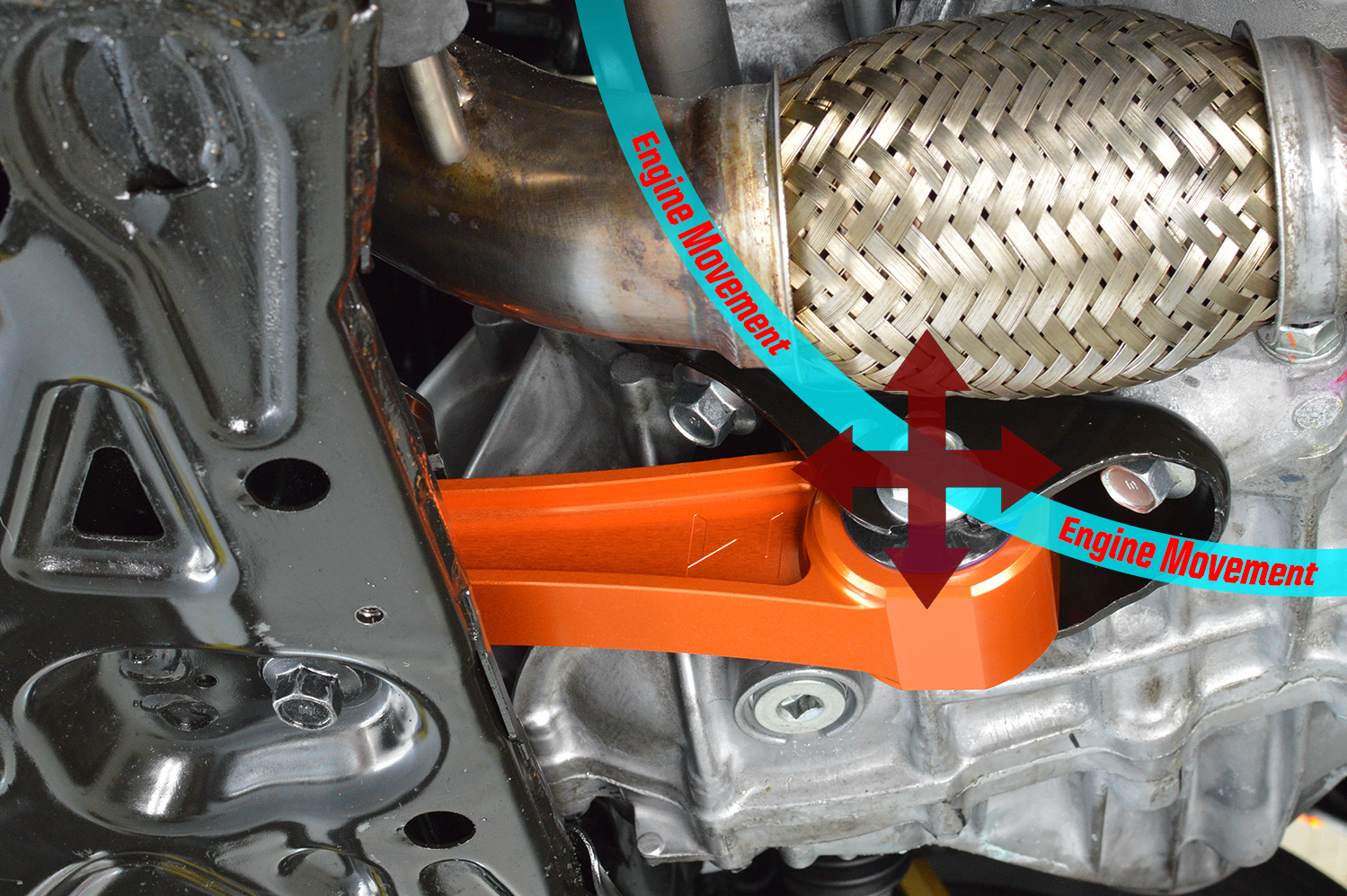 The body of the 27WON Race RMM is manufactured from two types of material depending on your choice. 6061-T6 billet aluminum for superior strength and weight or die-cast aluminum for a more budget friendly version. Both versions utilize our same CAD design to ensure a mount that will perform for your 10th gen Honda Civic.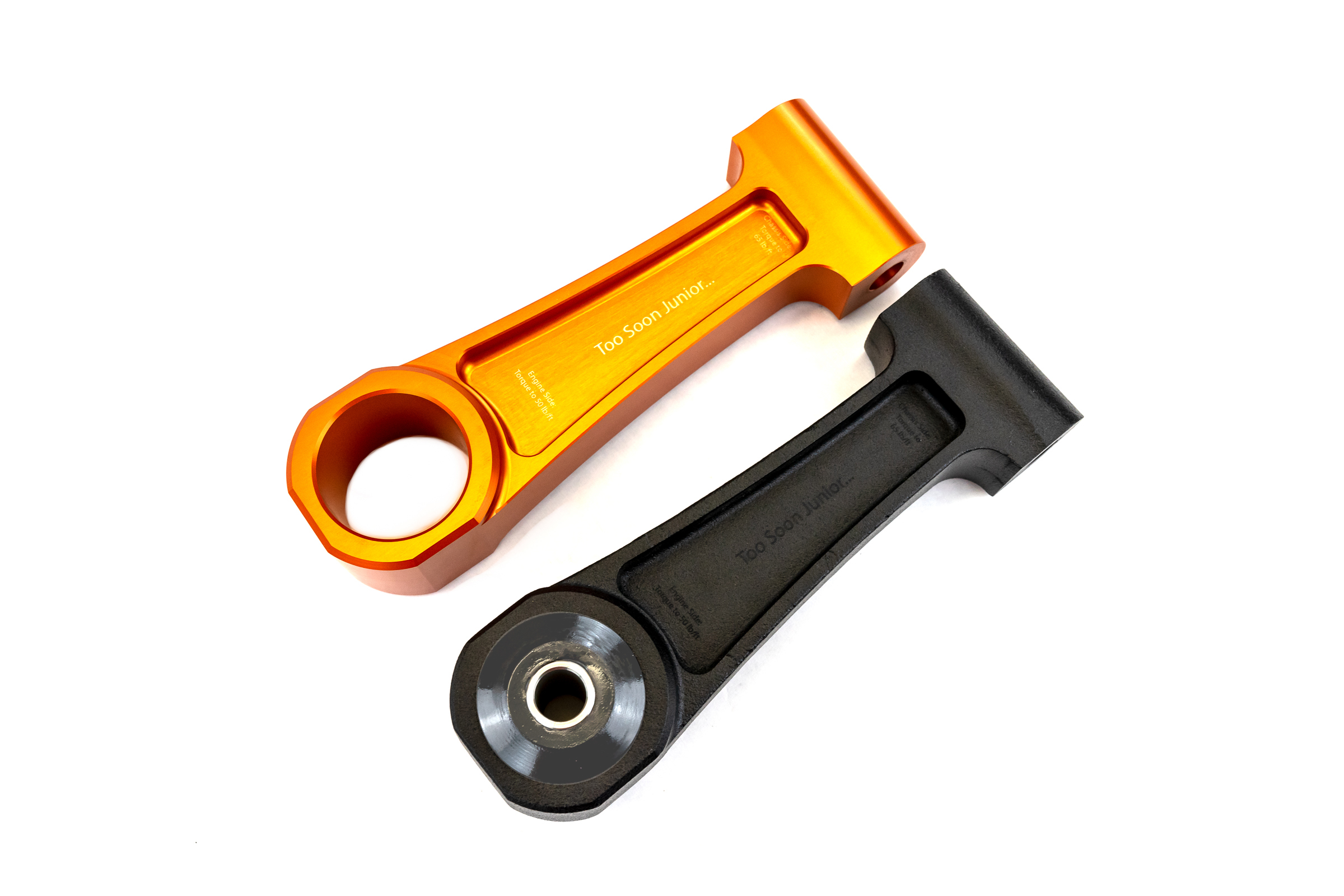 A noticeable bump up in performance (street) or leave it all on the track (race). The 27WON engine mount is available with 2 options for durometer hardness so you can select a mount that best suits your driving profile. Our 70A street gives a big drop in torque steer while being more civil in regards to NVH as compared to our 90A race. Our 90A race mount is for for those who put outright performance over comfort and can accept the extra NVH that gives them maximum performance.
Noise, Vibration, & Harshness (NVH) is an evaluation of the various irritants that can be transmitted through the vehicle into the cabin and directly to the driver and passengers. OE engineers and designers spend countless hours reducing/eliminating NVH from vehicles, however, this sometimes comes with a compromise in performance and vehicle feedback. Not all NVH is created equal, an OE designer may consider turbo noise to be unwanted NVH, whereas a performance enthusiast may consider it a desired sound.
Share
View full details
Street (70a) RMM on 2017 Civic Si
This mount is a perfect combination with summer tires (Continental Extreme Contact Sport 02s in my case) for keeping everything rolling along at any speed you desire. The intense vibration from the initial installation dies down after ~500 km. However, there is some unpleasant NVM when around 1.3 RPM to 1.7 RPM. So long as you aren't in stop-and-go traffic constantly it's a mild inconvenience for the improved handling and this is just with the Street version of the mount.
Very good RMM
The 27WON RMM is excellent. I took the 90A which is the outright metal to metal. I can see less power loss output around my tires and chassis. However, There is a lot of NVH at the beginning (around 1-2 weeks) but once the mod is settle in and you get used to the noise, it is significantly less loud. Nonetheless, it will force you to drive better because you want to avoid the loud noise coming from your engine. If you drive properly, you should not notice the NVH much. 27WON should maybe make the other 2 engine mounts so you can change the whole engine mount kit.
Thanks Phi!! Absolutely, it's a beast of a RMM and you feel more connected with the car and the shifting experience! Btw, try out Shell 93 if you haven't switched to it already, our shop car's are running much smoother since the switch, and as a by-product of the engine producing less vibrations the NVH from the RMM's have also been reduced as well. Not to mention, Shell 93 is the most potent fueling option, even better than Petro 94, Esso 93, and Costco 91 :)
Amazing Service as Always
Ordered and picked up within 30mins. Always a wonderful and informative time dealing with Unity as they are amazing and understanding people, and they also are very knowledgeable in every item they sell as they test most of the items they sell! 10/10 recommend. The 27Won street motor mount is amazing, NVH increase was not bad during break in period, car feels way more stable under power and also just feels like a race car now. Probably one of the most underrated mods you can get. It's cheap in price and we'll built. Car feels completely different in such a good way!
27won rrm
Super amazing. Gives a brand new feels on the driving experience . Mad respect to brother humza. Super nice guy🍻
Planted front end and no wheel hop? Yes please
I will start off with a warning, there is a increase in vibration from acceleration especially in the lower rpm range. This is less noticeable in manual cars compared to cvt from what I've heard. Ok now onto the good stuff, the difference is night and day. From a stop the car just goes now, no more delay or slight boggyness. A nice easy mod, cheap for the benefits it gives. Once the break in period is over it's a great experience, driving in "s" for cvt does help with the vibration. I've had mine for about 23k km now and it's barley noticable now when it comes to vibration from the solid mount.