Regular price
$1,692.71 USD
Regular price
Sale price
$1,692.71 USD
Unit price
per
Sale
Sold out
Unity Performance is the exclusive Canadian Dealer for all 27WON Performance Products in Canada! US folks, please continue to purchase through 27WON directly.
_______
Fits:
2016 - 2021 Honda Civic
2017 - 2020 Honda Civic Si
_______

With increased power comes great speed, and with great speed you need to STOP faster. If you've pushed the OE brakes found on your Civic, then you quickly learned that the OE brakes are not up for the challenge.

At 27WON Performance we found the OE brakes to be a real issue and decided to develop our own Big Brake Kit for the 2016+ Honda Civic community. This kit we found also works great on the 2018+ Honda Accord.

The 27WON BBK combines forged calipers, two-piece rotors, billet steel brackets, stainless steel braided brake lines, and the hardware necessary for install into a complete package that is tested and proven on the track and the daily commute.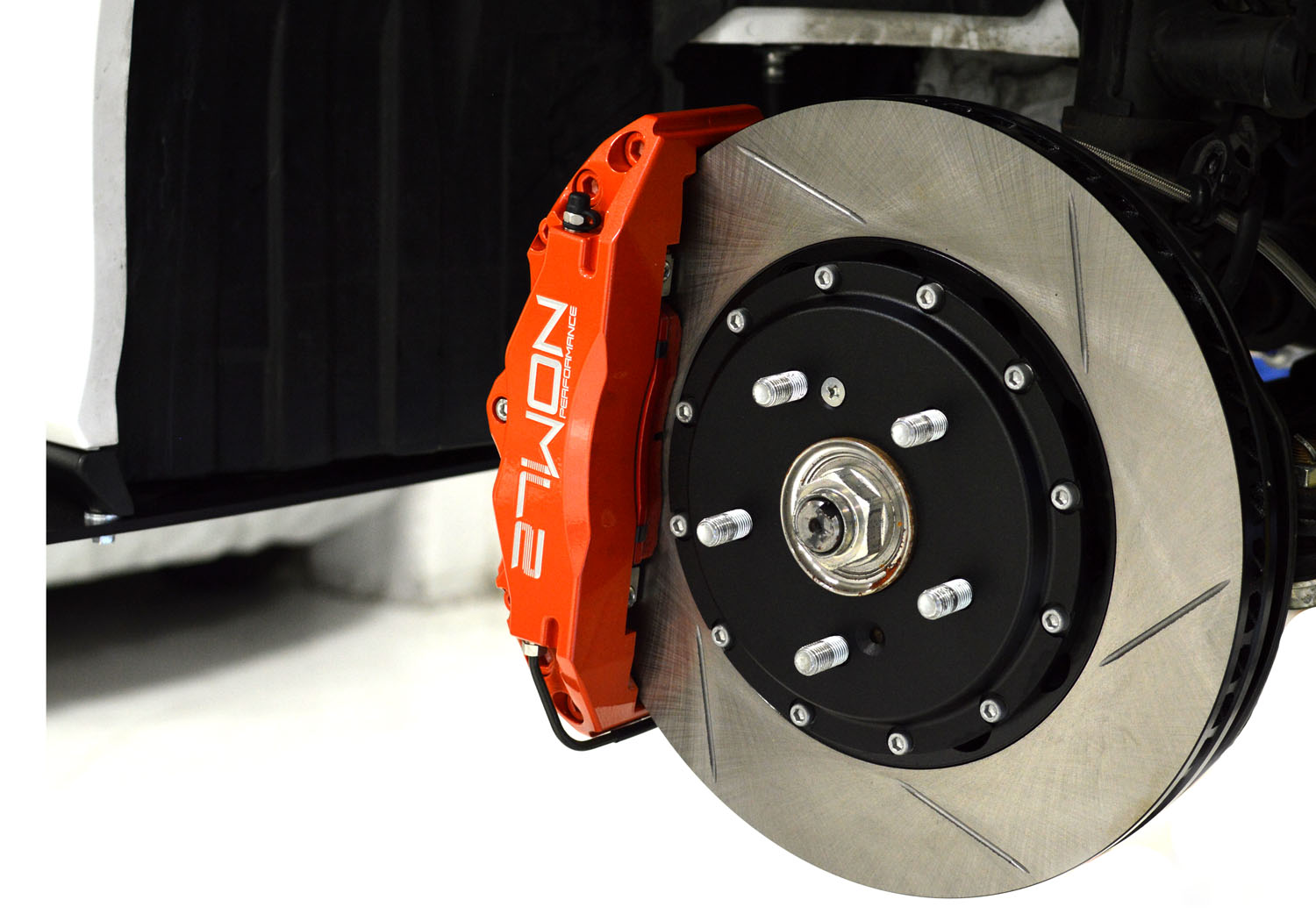 The braking system functions by converting rotational energy into thermal energy and is located on the un-sprung portion of the vehicle; therefore, braking performance is defined by heat dissipation, braking force, and weight. The 27WON Big Brake Kit was designed with these factors in mind to provide you with a complete BBK that outperforms the OE braking system, is durable & reliable, and looks great on your 2016+ Civic.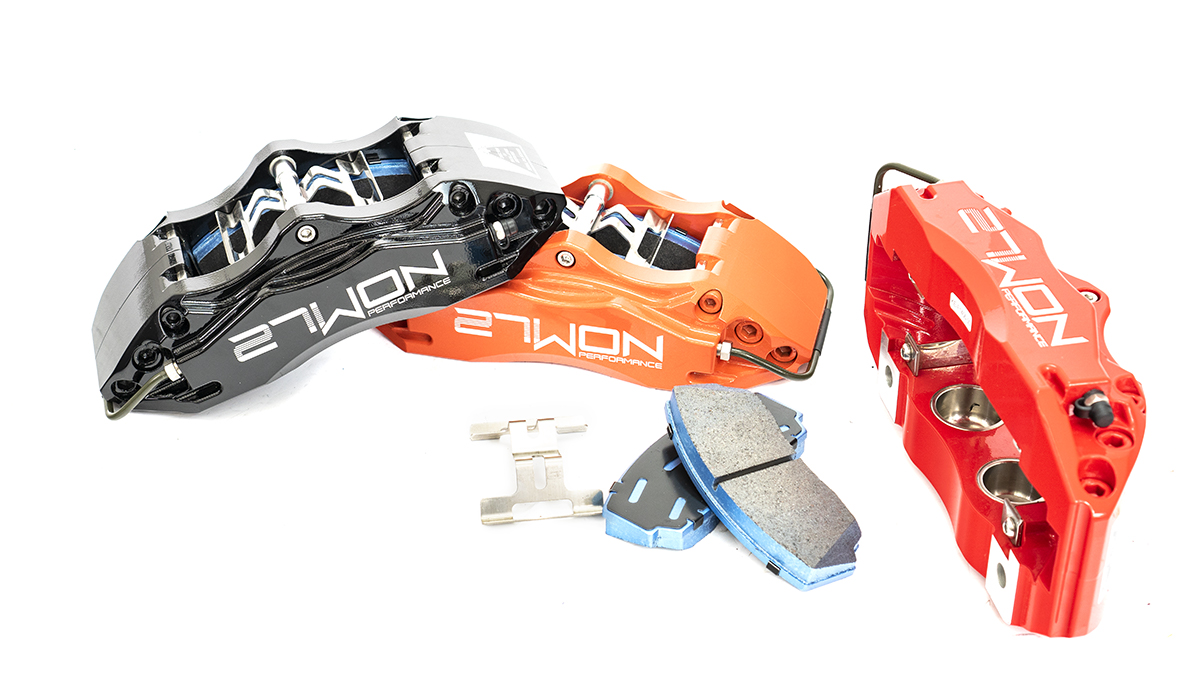 The forged calipers are coated in a durable and heat resistant hydraulic paint finish for long lasting vibrant color.
Currently offered in three color options:
Redline

 

Red
Stealth

 

Black
Signature

 

Orange

The 27WON BBK utilizes a forged aluminum body with a stainless steel staggered 4-piston design to optimize the overall braking performance. Aluminum forgings are used for their superior weight to strength ratio to reduce overall un-sprung mass and reduce caliper flexing during aggressive braking.
This staggered stainless pistons are designed to provide even pad wear.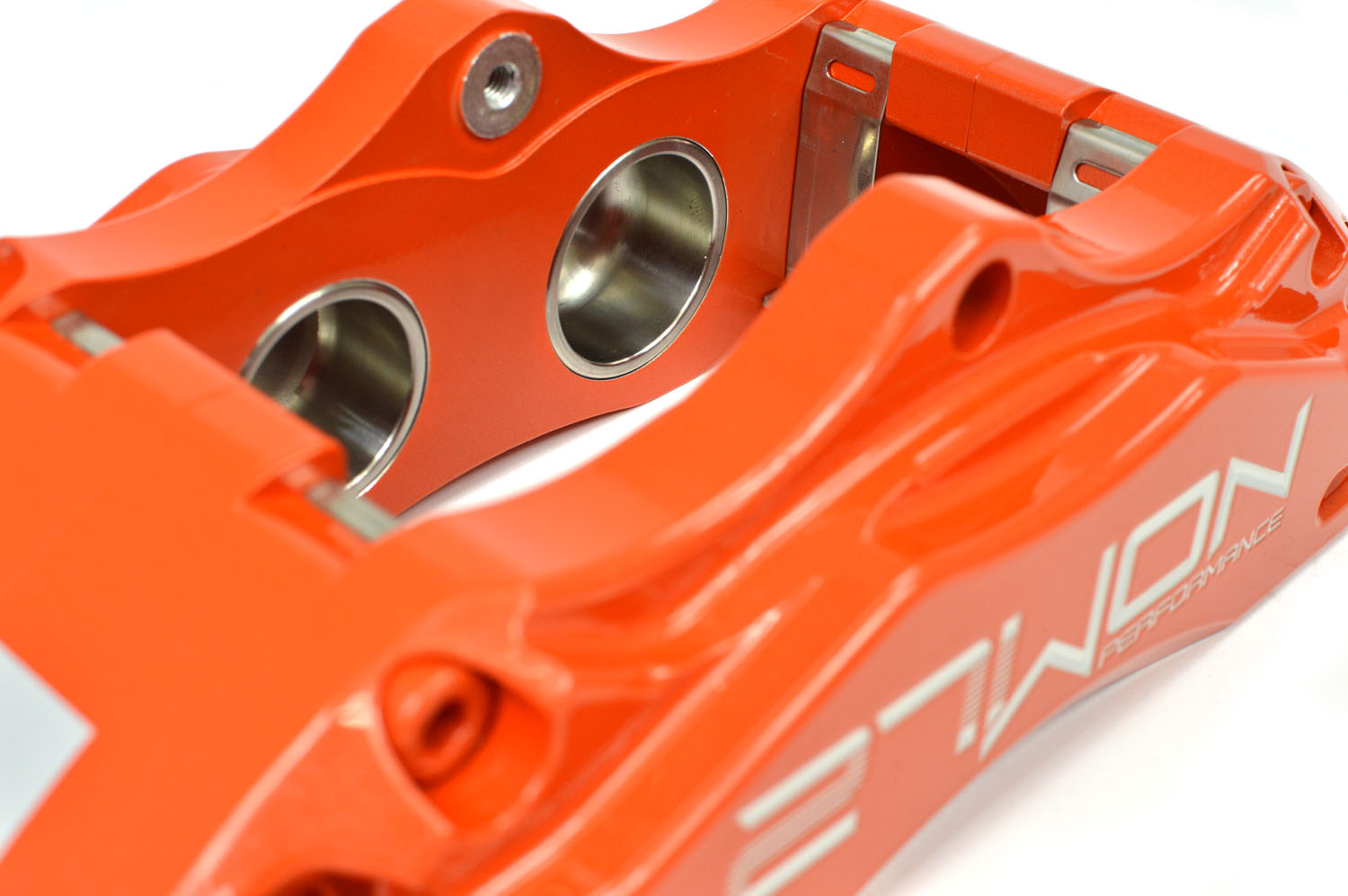 The braking system functions by converting rotational energy (wheels rotating) into thermal energy (heat); controlling where the waste thermal energy goes is key to the peak performance and endurance of the braking system.
To reduce the rate of excess heat transfer into the brake fluid (reduced risk to boil fluid), stainless steel pistons are used vs the standard aluminum pistons due to stainless steel's low thermal conductivity. By reducing the amount of heat transferred into the brake fluid, the 27WON BBK is able to perform far better and for a longer period of time vs the OE braking system.

The 27WON BBK is designed to be used with 17" inch or larger diameter wheels.
OE wheels will require the use of a wheel spacer for fitment over the 27WON BBK. Please use the Wheel Fitment Guide to determine how thick of a spacer is required.
Some aftermarket wheels will require the use of a wheel spacer for fitment over the 27WON BBK. Please use the Wheel Fitment Guide to determine how thick of a spacer is required.
Supplied "blue sport pads" are intended for spirited street use. Track use will require race specific pads.
24mm is the minimum rotor thickness

 

before replacement is required. These rotors can be turned down on a lathe not to pass min 24mm. Replacement rotors and rotor rings are available. Call to order

 

571-271-0271
Wheel Spacer Blog:

 

How to Get the Right Wheel Spacers for Your Civic BBK
Be sure to click, download, and confirm the wheel fitment guide to ensure a smooth and trouble-free install of your new BBK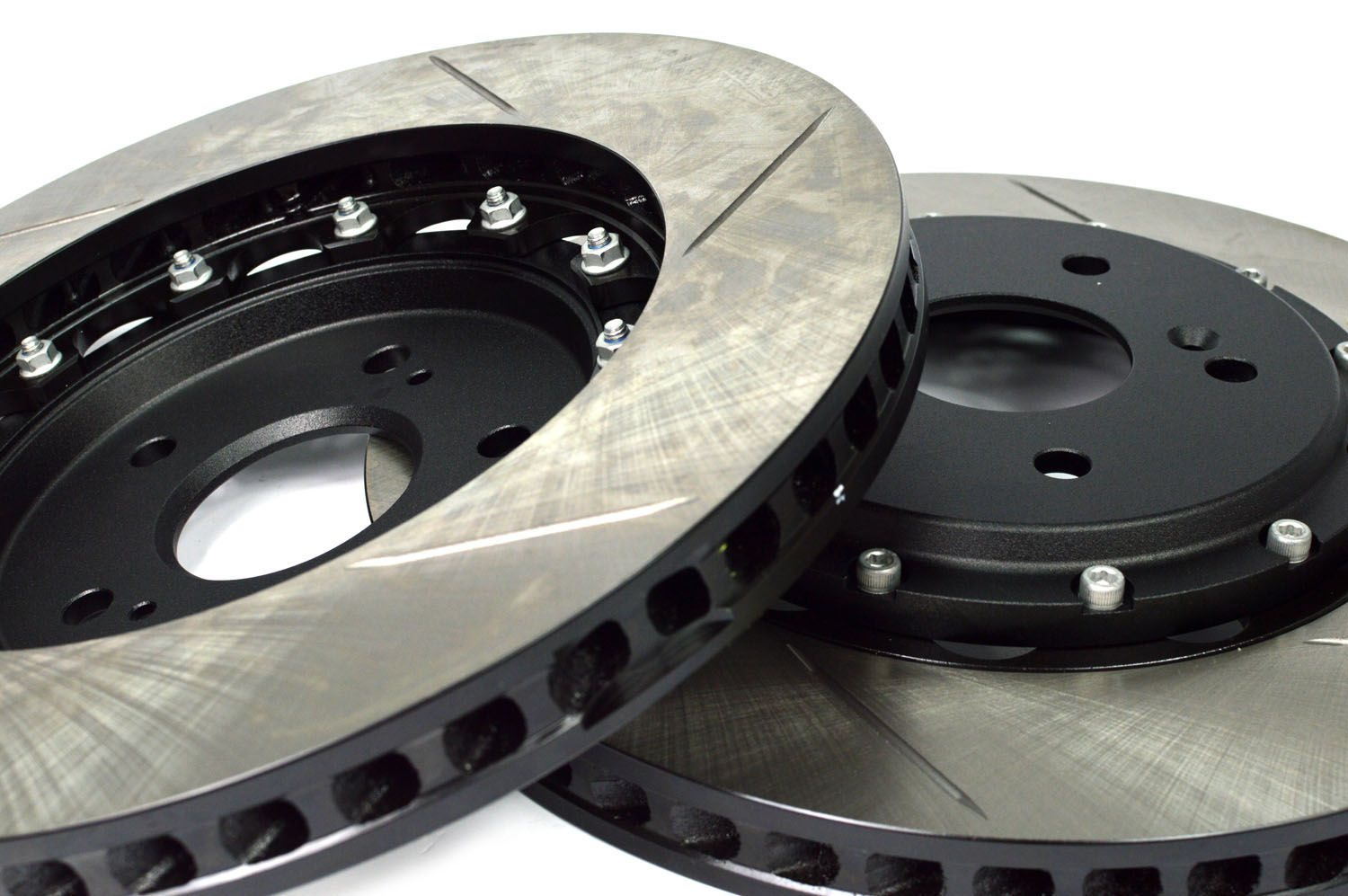 The 27WON brake rotors use 2-piece construction to reduce the overall weight of the braking system, The rotor hat (center piece) is manufactured from aluminum and finished with a black protective coating. The rotor rings are where the major performance benefits come into play.
The 27WON BBK rotor rings increase the diameter to 13in (330mm) & thickness to 1.10in (28mm); this increase in overall size increases the total thermal capacity of the braking system and the braking force that can be applied to the vehicle.
Further improving the thermal capacity and cooling, the rotors feature directional internal vanes for more efficient cooling and rotor face slots to sweep away debris and brake pad gases that can build up during aggressive stopping.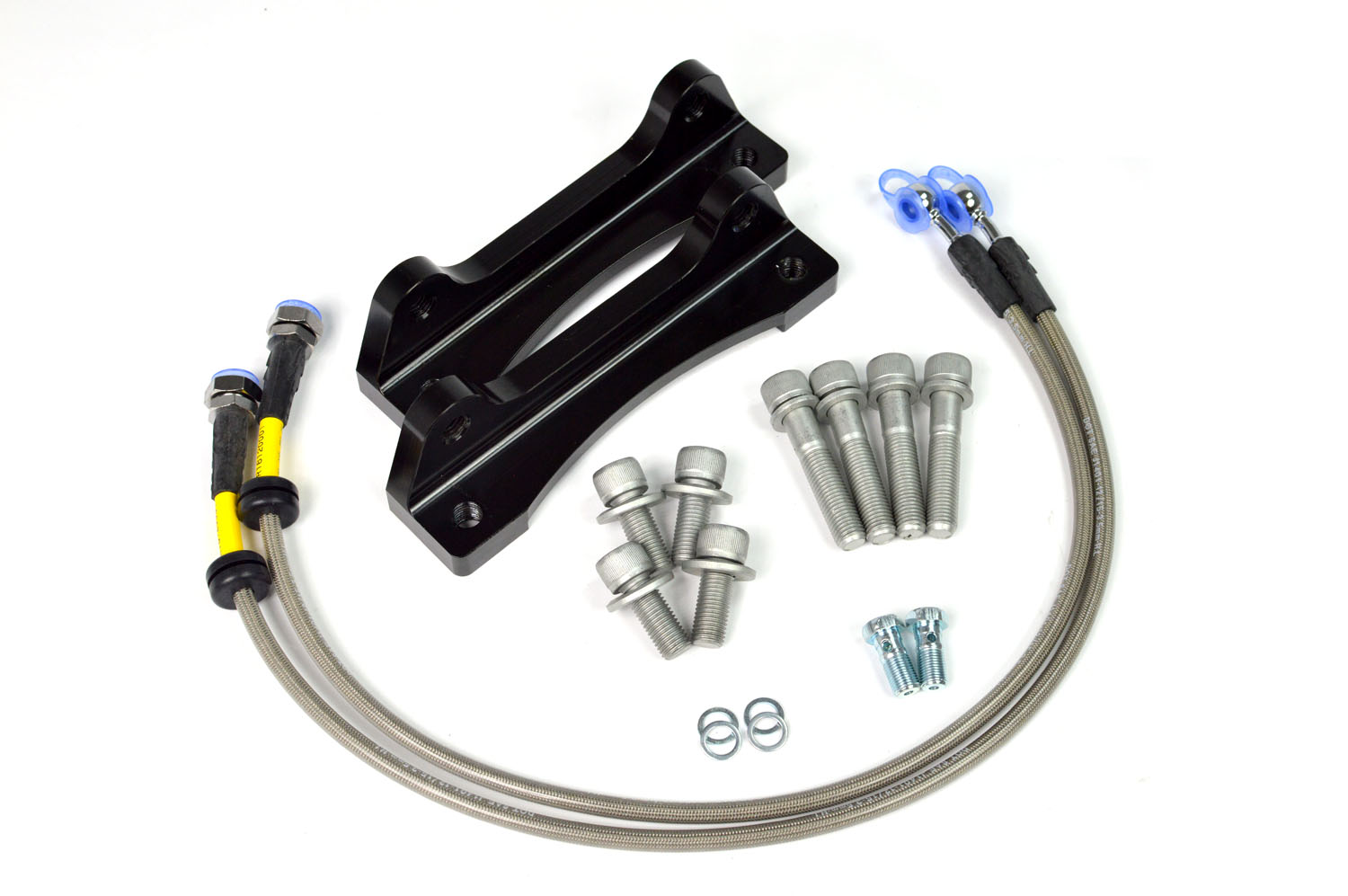 No Big Brake Kit is complete without Stainless Steel Brake Lines, which is why 27WON includes DOT approved brake lines with every BBK. The included SS braided lines replace the OEM rubber lines to improve braking response and pedal feel and are designed to fit like OE.
To further complete the BBK, all necessary installation hardware and brackets are included. Billet steel black zinc brackets and class 12.9 hardware are also in every kit for a seamless install.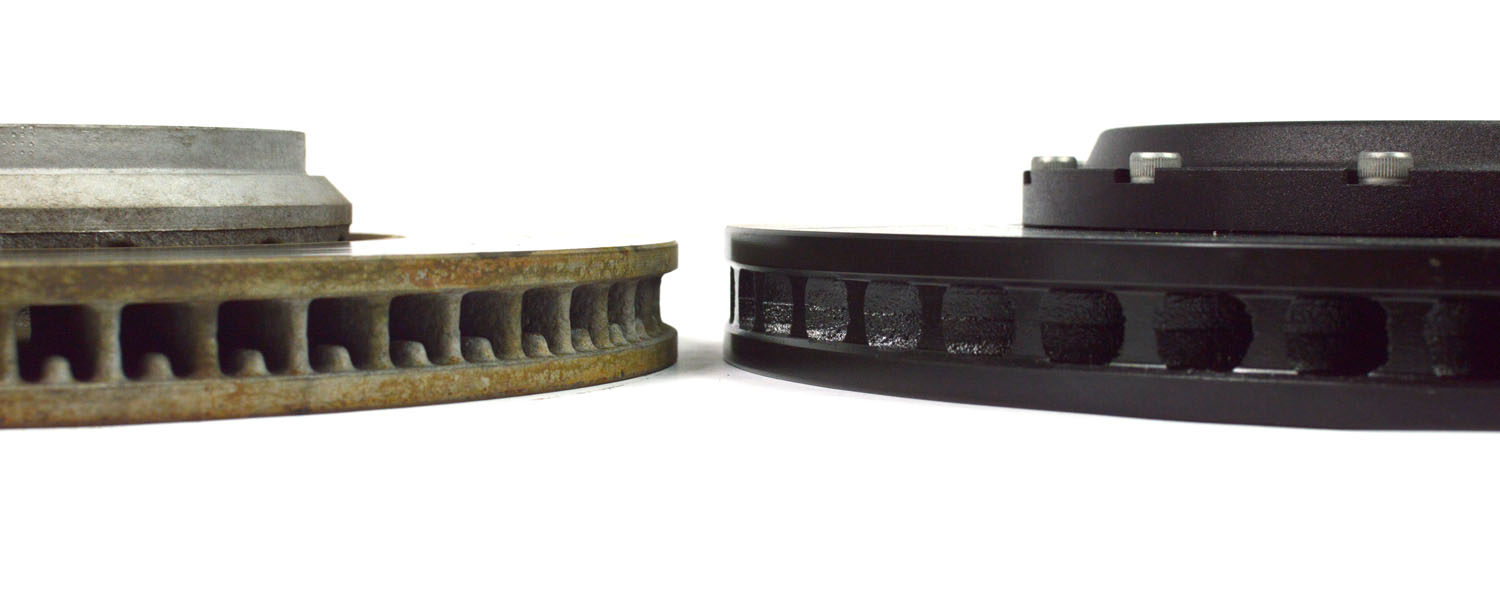 Despite the increased overall size and improved performance, the 27WON BBK weighs 6 lbs LESS (9.3% less) vs the SI OE braking system.
SI OE caliper per corner

 

= 15.24lbs
SI OE rotor per corner

 

= 17.08lbs
SI complete braking system

 

= 64.64lbs
27WON caliper per corner

 

= 11.84lbs
27WON rotor per corner

 

= 17.48lbs
27WON complete braking system

 

= 58.64lbs

CHECK OUT OUR BLOG DETAILING THE DESIGN OF THE 27WON BBK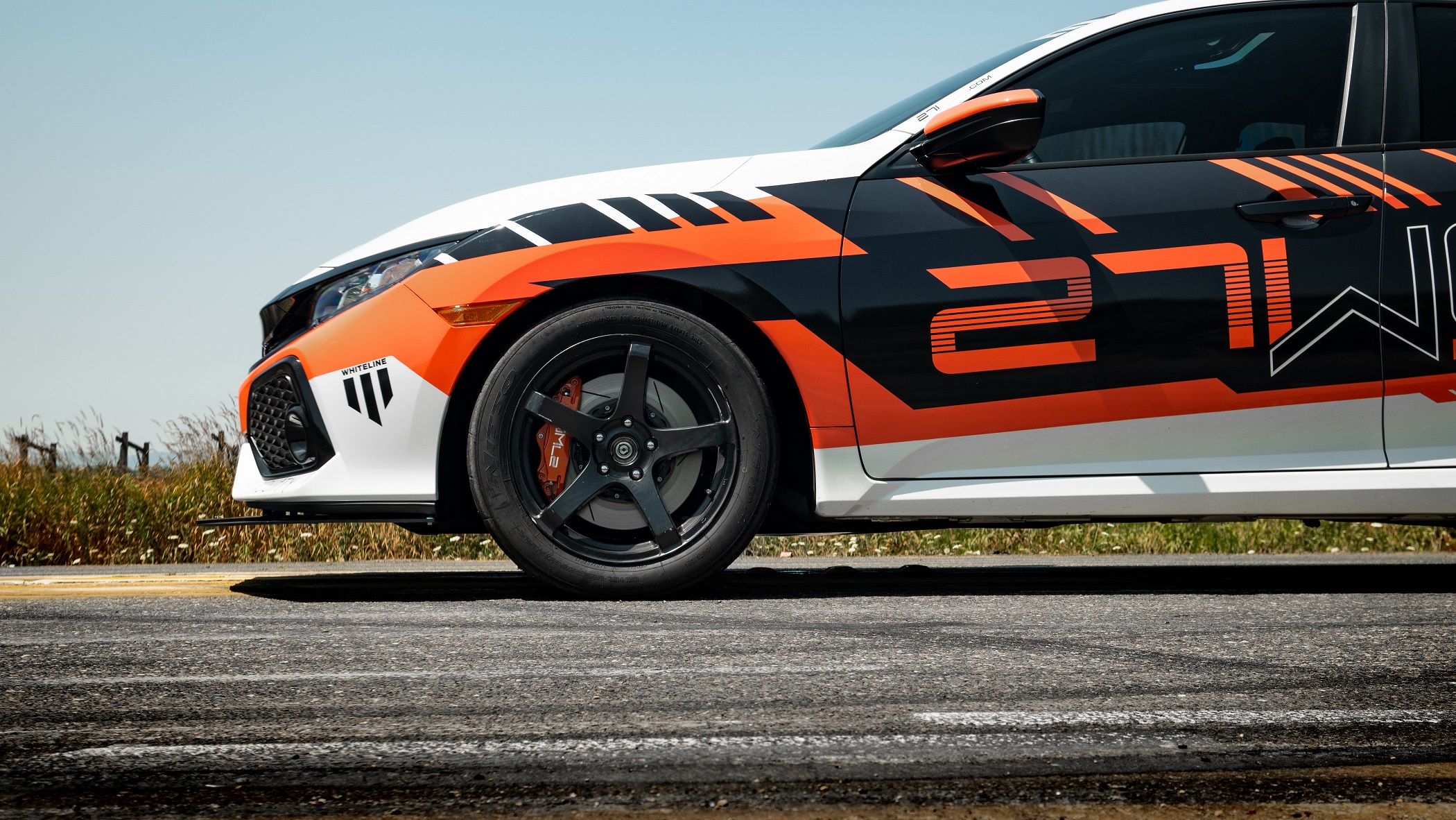 PART 1:
The BRAKEDOWN, read up on the kit and learn how we went the extra step to get you a kit for your CivicX.


PART 2:
How to Get the Right Wheel Spacers for Your Civic Big Brake Kit.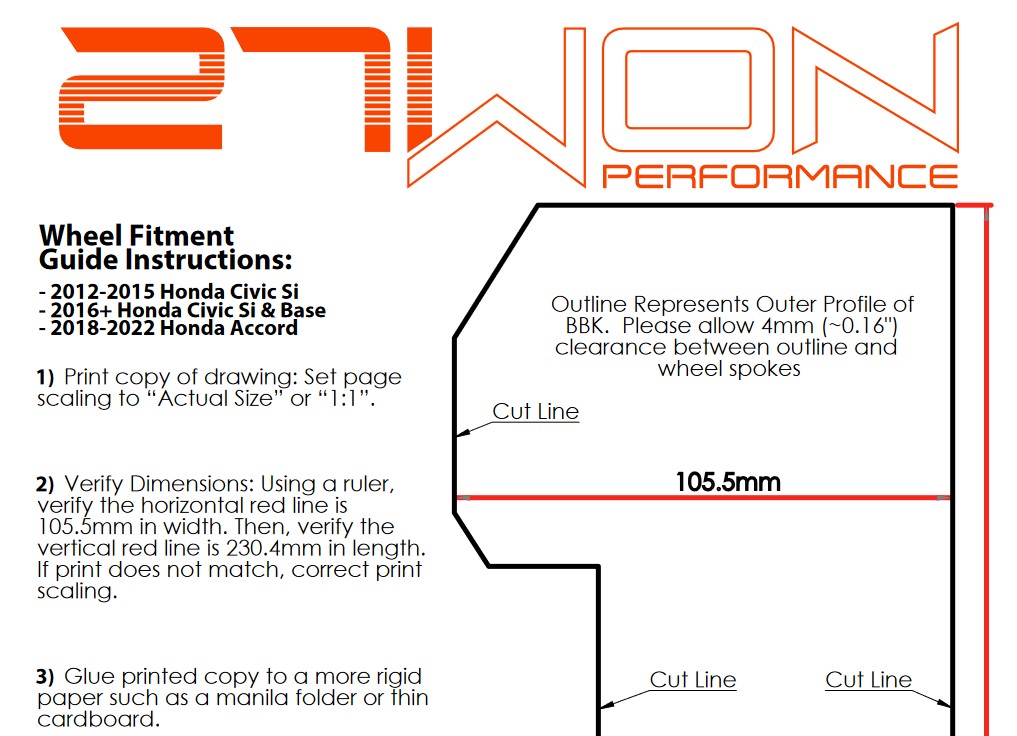 We made installing our big brake kit easier for your CivicX. Click the link below to read and download our wheel fitment guide. Make sure you check wheel clearance ahead of time. You need to have the right size wheels/spacers to have a trouble-free install.
• Download wheel fitment guide here >>>***WHEEL FITMENT GUIDE***<<<
Share
View full details
Such A Well-Made Kit!
Had my eye on this kit for a while, and can confirm others' reports of how well this kit is made! From the caliper to the rotor, everything seems well thought out. Install was a breeze (except for removing the rubber OEM brake line from the OEM hard line. Be careful! Use the right crows foot tool!), and 27won even provides shims in case you need to center the caliper on the rotor (I didn't need to, but nice they included them). Also, I love that they provide a template for measuring wheel clearance beforehand!
As for performance, wow, do these binders work! No fade yet!
Thank you, Unity for great prices & delivery, and thanks to 27won for their work on this kit! Worth every penny!