Regular price
$107.00 USD
Sale price
$97.00 USD
Unit price
per
Sale
Sold out
Fits:
2016 - 2021 Honda Civic 2.0L Manual

2016 - 2021 Honda Civic 1.5T Manual

2017 - 2020 Honda Civic Si

2017 - 2021 Honda Civic Type R FK8

2018 - 2022 Honda Accord Manual

2022+ Honda Civic 2.0L Manual

2022+ Honda Civic 1.5T Manual

2022+ Honda Civic Si

2022+ Honda Civic Type R FL5

2023+ Acura Integra Manual

2023+ Acura Integra Type S DE5

_______
Anyone who has taken a 10th Gen Civic to the track can tell you that the default pedal positions make using a heel-toe technique incredibly difficult, if not impossible. The solution to this is to move the throttle pedal towards the driver, which better aligns the brake and accelerator pedal. 
The Acuity Throttle pedal spacer provides three unique positions for your accelerator pedal, which resolves this issue. Not only does the Acuity Throttle Spacer move the pedal towards you, it also allows you to move the pedals closer together laterally, which aids drivers with more narrow feet. 
The Acuity Throttle Pedal Spacer allows the driver to select one of 3 possible non-stock pedal locations. Each location provides a slightly different driving feel. We recommend trying them all to find what suits you best. Position A moves the throttle pedal closest to the driver. Position B is slightly further from the driver than Position A and slightly closer to the brake pedal, laterally. Position C is furthest from the driver (still much closer than stock) and also moves the accelerator pedal closer to the brake pedal, laterally, like Position B.
Share
View full details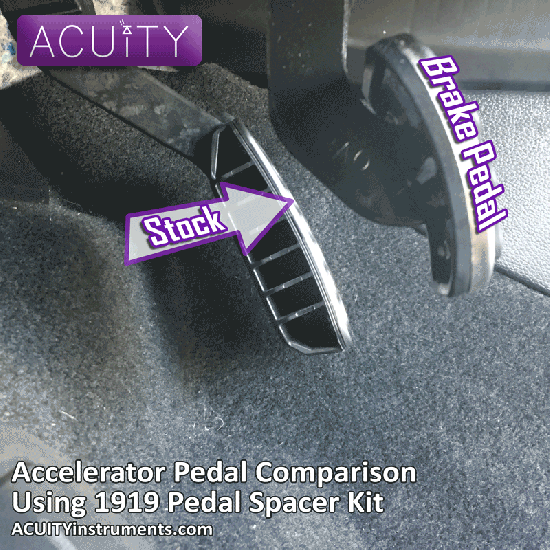 10/10
Works great. Massive improvement in the driving experience. Very high quality part.
Thanks Dylan! I agree, it's one of the first mods I did back in 2017 to my own Si and the higher pedal placement + closer to the brake pedal made it so easy to heel-toe downshift.
A must have for driving enthusiasts
Simple and effective, if you like driving spiritedly or on track this is a quality of life upgrade.
Thanks for making this part so I can practice heel toe down shifting
Bought a 2018 Honda civic si HFP because I love driving fast. Was disappointed in the car because you couldn't toe heel down shift.
With this throttle relocation part make it fun to drive my car fast and being able to down shift make the car slow down even more. Thanks for making this part ,well done.
Love the adjustment
This was my first mod I did to my civic and I haven't regretted it. Been installed for 2 years and it's been amazing driving experience. I have a bad knee so having to push so far in the OEM position was really causing some issues while driving for long periods of time. I have it on setting B and I found it the perfect spot. If you have floor liners like I do for our winters in Canada, it may restrict your throttle pedal slightly, but adding this give you more throttle with more room to push in. So a perfect surprise benefit!
Good Product - Install is a Hassle
The stock Honda gas and brake pedals are miles apart left to right and also front to back. This Acuity product lets you take care of that so you can heel-toe again. Amazing Acuity build quality as usual, but installation is a total PITA ... you will contort yourself like a pretzel under the steering wheel. Make sure to turn off your phone and send you loved ones out for the afternoon so you don't take someone's head off. OEM bolts are hex head bolts, whereas the Acuity bolts use an Allen key metric 5mm iirc. You will wonder why they could not just have used the same head. Do not attempt to install with an Allen key... you need the appropriate 5mm (?) bit on your long socket extension or equivalent. Test thread the Acuity bolts into the holes first, this seemed to help them engage during installation. I think the Acuity bolts should have had a leading non-thread tip like some of the OEM Honda bolts, as it would have made for easier installation. Once you get it installed you will be happy, although your feet need to get used to the radically different (awesome) new position.