Unity Performance is the exclusive Canadian Dealer for all 27WON Performance Products in Canada! US folks, please continue to purchase through 27WON directly.
_______
Fits:
All 2016 - 2021 Honda Civic, excluding Civic Type R.
_______
With increased power comes great speed, and with great speed you need to STOP faster. If you've pushed the OE brakes found on your Civic SI, Sport, EX,LX or Honda Accord; then you quickly learned that the OE brakes are not up for the challenge.

27WON Performance found the OE brakes to be a real issue and decided to develop a Big Brake Kit for the 2016+ Honda Civic community. This kit we found also works great on the 2018+ Honda Accord.

The 27WON BBK combines forged calipers, two-piece rotors, billet steel brackets, stainless steel braided brake lines, and the hardware necessary for install into a complete package that is tested and proven on the track and the daily commute.
The 27WON brake rotors use 2-piece construction to reduce the overall weight of the braking system, The rotor hat (center piece) is manufactured from aluminum and finished with a black protective coating. The rotor rings are where the major performance benefits come into play.

The 27WON BBK rotor rings increase the diameter to 13in (330mm) & thickness to 1.10in (28mm); this increase in overall size increases the total thermal capacity of the braking system and the braking force that can be applied to the vehicle.

Further improving the thermal capacity and cooling, the rotors feature directional internal vanes for more efficient cooling and rotor face slots to sweep away debris and brake pad gases that can build up during aggressive stopping.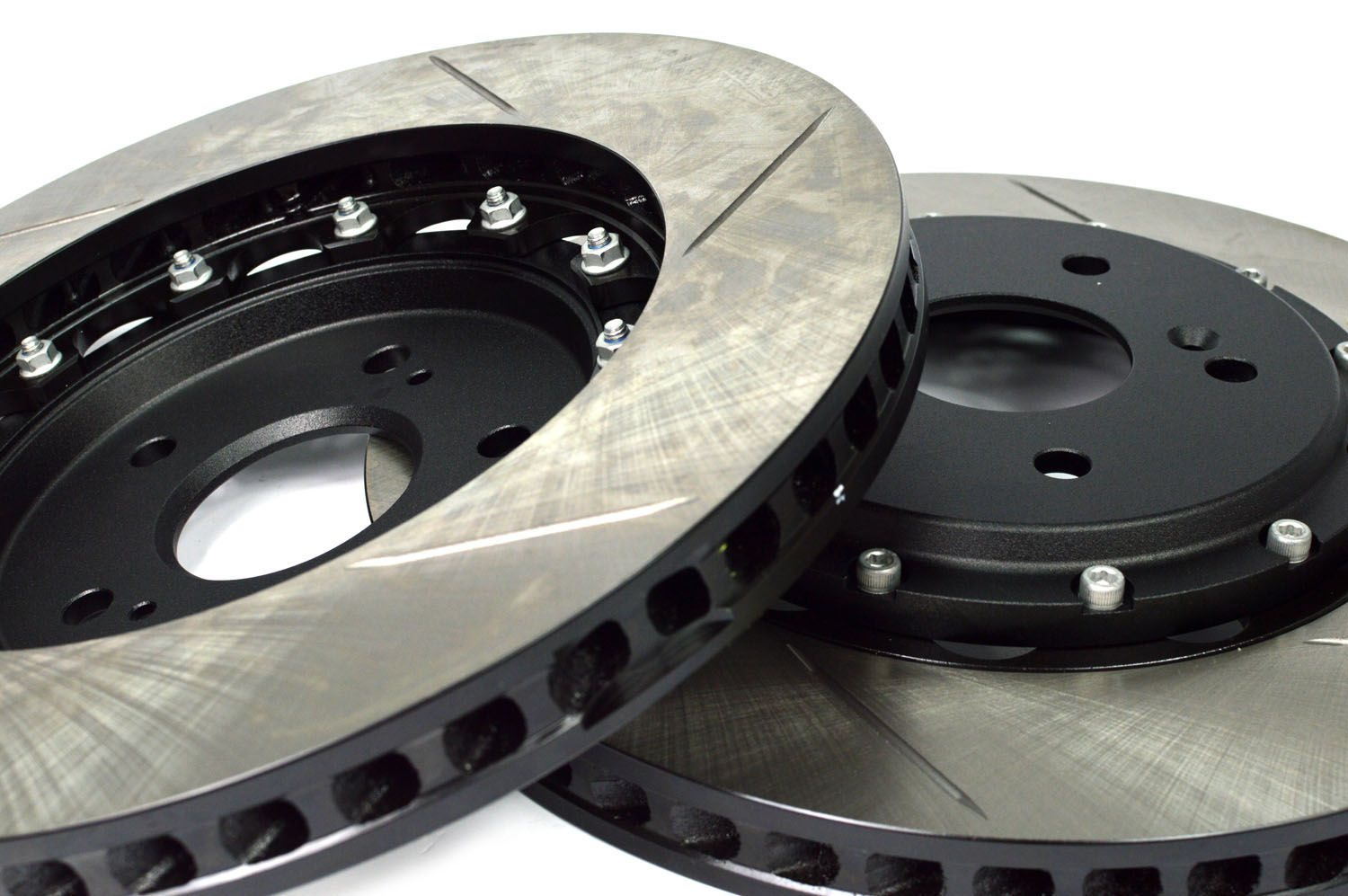 The forged calipers are coated in a durable and heat resistant hydraulic paint finish for long lasting vibrant color.
Currently offered in three color options:
Redline

 

Red
Stealth

 

Black
Signature

 

Orange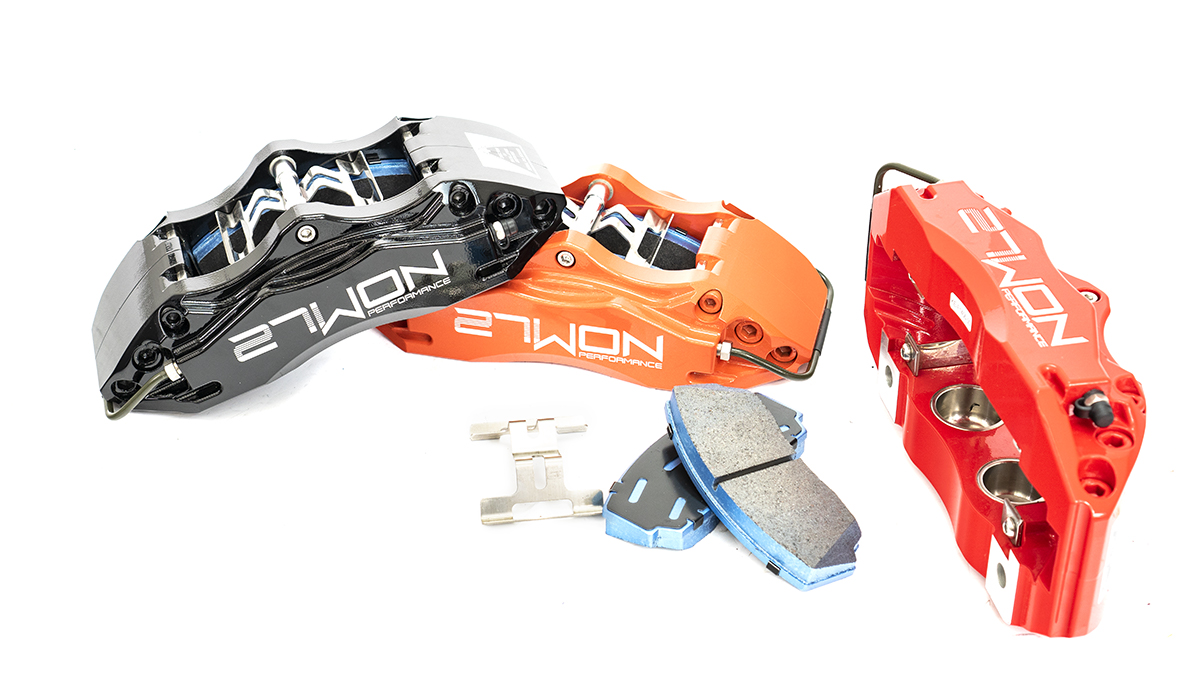 The 27WON BBK utilizes a forged aluminum body with a stainless steel staggered 4-piston design to optimize the overall braking performance. Aluminum forgings are used for their superior weight to strength ratio to reduce overall un-sprung mass and reduce caliper flexing during aggressive braking.
This staggered stainless pistons are designed to provide even pad wear.
No Big Brake Kit is complete without Stainless Steel Brake Lines, which is why 27WON includes DOT approved brake lines with every BBK. The included SS braided lines replace the OEM rubber lines to improve braking response and pedal feel and are designed to fit like OE.

To further complete the BBK, all necessary installation hardware and brackets are included. Billet steel black zinc brackets and class 12.9 hardware are also in every kit for a seamless install.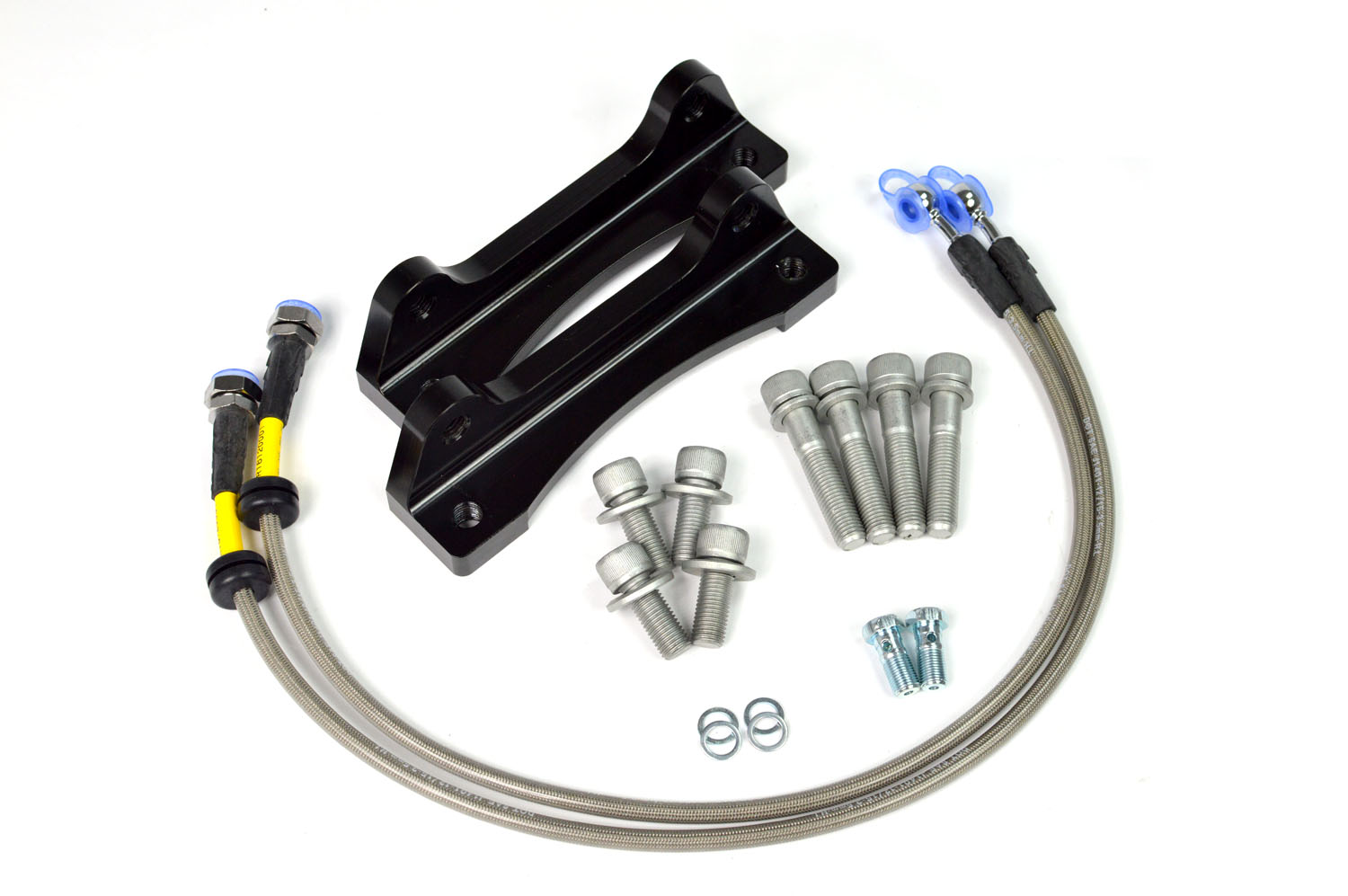 Despite the increased overall size and improved performance, the 27WON BBK weighs 6 lbs LESS (9.3% less) vs the SI OE braking system.

SI OE caliper per corner = 15.24lbs
SI OE rotor per corner = 17.08lbs
SI complete braking system = 64.64lbs
27WON caliper per corner = 11.84lbs
27WON rotor per corner = 17.48lbs
27WON complete braking system = 58.64lbs
The 27WON BBK is designed to be used with 17" inch or larger diameter wheels.
OE wheels will require the use of a wheel spacer for fitment over the 27WON BBK. Please use the Wheel Fitment Guide to determine how thick of a spacer is required.
Some aftermarket wheels will require the use of a wheel spacer for fitment over the 27WON BBK. Please use the Wheel Fitment Guide to determine how thick of a spacer is required. 24mm Min rotor thickness for replacement
Be sure to click, download, and confirm the wheel fitment guide to ensure a smooth and trouble free install of your new BBK.